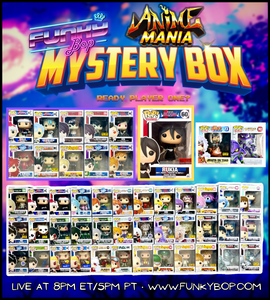 Funky Bop: Pop Shop
Funky Bop ANIME MANIA Mystery Box - 8.18
Regular price
$89.99
$0.00
Unit price
per
PRICING:
Each box is $89.99 plus shipping
WHAT'S IN THE BOX/VALUE:
Each box is
$90 guaranteed PPG value (8/17/2023)
plus guaranteed to receive
AT LEAST ONE
 of the the pictured/anime Funko Pops.
3 to 4 Funko Pops
will be in each box. 
**BOX MAY CONTAIN ALL ANIME OR A MIXTURE OF ANIME WITH OTHER THEMES (DC, MARVEL, MOVIES, TV, CARTOONS, STAR WARS, DISNEY, HORROR & ETC.)**
HOW MANY BOXES ARE THERE:
Boxes are on a first come first serve basis with only
50 in stock. 
GRAILS:

Rukia (Hot Topic Pre-Release Exclusive) - $520 PPG
L (Death Note) #218 - $220 PPG
L (with Cake) (Hot Topic Exclusive) - $210 PPG
Grimmjow (Bleach) #349 - $160 PPG
Renji (Gamestop Exclusive) - $150 PPG
Genos (One Punch Man) - $110 PPG
Yusuke #543 - $90 PPG
Ichigo (Bleach) #59 - $85 PPG
Eva Unit 01 #747 - $85 PPG
Kurama #544 - $80 PPG
Gon Freecss (Hot Topic) - $80 PPG

PLUS MANY OTHERS!  

ODDS:
100% to receive at least ONE pictured Funko Pop.
22% to receive at least ONE listed Grail Funko Pop. 
2% to receive GRAND PRIZE, Rukia from Bleach (Hot Topic Pre-Release Exclusive) 

PURCHASING LIMITS:
We ask our customers to purchase up to FOUR BOXES. Any abuse of this will result in a cancellation of any excess or potentially, ALL of your orders. 
CONDITION OF BOXES:
We would love to have minty fresh boxes, however sometimes we cannot deliver every time due to transits. We purchase most of our boxes mint but more vaulted/grail pops may be a condition grade of 7.5 through mint.
POSSIBILITY OF DUPLICATES:
If you purchase more than one mystery box, its NOT LIKELY that you will receive a duplicate. Please refer to specific drop information for more details. 
SHIPPING INFORMATION:
Will ship by Wednesday, the 23rd. Package insurance is included for free with every box via UPS or USPS. 
RETURN/EXCHANGE POLICY:
No returns or exchanges.
---