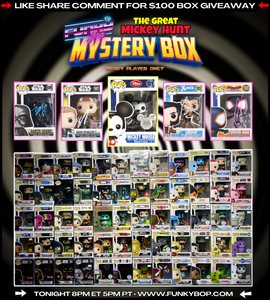 Funky Bop: Pop Shop
Funky Bop THE GREAT MICKEY HUNT Mystery Box - 11.3
Regular price
$64.99
$0.00
Unit price
per
PRICING:
Each box is $64.99.99 
plus shipping
WHAT'S IN THE BOX/VALUE:
Each box is
$65 guaranteed PPG value (11/2/2023) 
plus guaranteed to receive
AT LEAST ONE
 of the pictured Funko Pops.
3
 Funko Pops
will be in each box. 
HOW MANY BOXES ARE THERE:
Boxes are on a first come first serve basis with only 
50
 in stock. 
TOP PRIZES ($2,700 in total value):
Mickey Mouse (Black & White Metallic) (480 PCS) (2011 D23 Convention Exclusive) - $1,820 PPG
Logan #185 (Hugh Jackman Signed with COA) - $350 Value
Anakin Skywalker (2022 Fall Convention Exclusive) (Hayden Christensen Signed with COA) - $200 Value
Darth Vader #539 (Hayden Christensen Signed with COA) - $180 Value
Miles Morales #1223 (Shameik Moore Signed with COA - $150 Value
 
ODDS:
100% to receive at least ONE pictured Funko Pop
10% to receive ONE OUT OF FIVE listed TOP PRIZES above
2% to receive GRAND PRIZE - Mickey Mouse (Black & White Metallic) (480 PCS) (2011 D23 Convention Exclusive) valued at $1,820 PPG

PURCHASING LIMITS:
FOUR BOXES PER HOUSEHOLD. Any abuse of this will result in a cancellation of any excess or potentially, ALL of your orders. 
CONDITION OF BOXES:
We would love to have minty fresh boxes, however sometimes we cannot deliver every time due to transits. We purchase most of our boxes mint but more vaulted/grail pops may be a condition grade of 7.5 through mint.
POSSIBILITY OF DUPLICATES:
If you purchase more than one mystery box, its NOT LIKELY that you will receive a duplicate. Please refer to specific drop information for more details. 
SHIPPING INFORMATION:
Will ship on Wednesday, November 8th. Package insurance is included for free with every box via UPS or USPS. 

PACKAGE INSURANCE INFORMATION:
We offer Route Package Protection Services with every single order you purchase. As an additional service, Route protects your packages from being damaged, lost or stolen without any of the back and forth bull crap that you may get with USPS/UPS. We strongly recommend keeping this service in your cart to help against these issues.
For more information please visit:
https://www.funkybop.com/pages/shipping
HOW ARE THE POPS PACKAGED:
Each and every Funko Pop will be protected with 0.5mm Premium-Scratch Proof Diamond Guard Pop Protectors with bubblewrap. Plus, appropriate smash proof and resiliant boxes that can withstand normal transit wear and tear. 

Please visit https://www.diamondxguard.com/ for more information


RETURN/EXCHANGE POLICY:
No returns or exchanges.
---