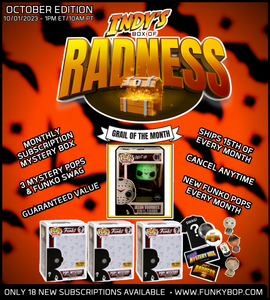 Funky Bop: Pop Shop
Indy's Box of Radness Mystery Box
Regular price
$40.00
$0.00
Unit price
per
ABOUT OUR SUBSCRIPTION/MEMBERSHIP BOX:
Indy's Box of Radness is a monthly Funko Pop! and Collectibles subscription mystery box that features commons, exclusives, chase, vaults, grails, sodas and of course swag, all delivered automatically to your doorstep. With value in mind, our creed is always to pack your mystery boxes with awesome goodies and an opportunty to win a huge grail and also, an exciting way to unbox your Monthly Mystery Box.

SUBSCRIPTION/MEMBERSHIP PRICING:
Every Indy's Box of Radness will cost $40 every month regardless. Once locked in a price, we will not change that. You are guaranteed that rate. 

WHAT'S IN THE BOX/VALUE:
Each month may be different but we like to keep them closely the same in regards of Funko items. Every 4" Funko Pop will be fitted with a Pop Protector for free! 

AUGUST 2023 - 2 Pops, 1 Soda (sealed or opened rare), Limited Edition Autographed Indy photo and Swag
SEPTEMBER 2023 - 2 Pops, 1 Soda (sealed or opened rare) Limited Edition Autographed Indy photo and Swag
OCTOBER 2023 - 3 Pops, Limited Edition Autographed Indy photo and Swag
NOVEMBER 2023 - ?
DECEMBER 2023 - ?

EACH BOX WILL HAVE FULLY GUARANTEED VALUE! Meaning, we will assess values via Pop Price Guide in every box so if you spend $40 for a box, you will get $40 back! We like to pack more than GV in every box to account to any value deflations so usually you get more BACK! 

HOW MANY BOXES ARE THERE:
Boxes are on a first come first serve basis. Only 100 Indy's Box of Radness Mystery Boxes will be available to our subscribers every month. Meaning if the initial enrollment mystery boxes are all taken by other subscribers, you will have to wait for someone to cancel to have an opportunity to sign up. 

If we decide in the future to make availabe more subscription/membership boxes, we will feature more than one grail to even up every ones opportunities. 
GRAIL OF THE MONTH:
Each month, we will feature a new "Grail of the Month" that each subscriber has a random opportunity to win. Odds are 1 out of 100. 

AUGUST 2023 - Freddy Funko as Spider-Man (4000 pcs) (2022 Box of Fun: Blacklight Battle Exclusive) $330 PPG
SEPTEMBER 2023 - Ghost Face #51 (2017 Release) $460 PPG
OCTOBER 2023 - Jason Voorhees (Green Glow in the Dark) (Chase) $510 PPG
NOVEMBER 2023 - ?
DECEMBER 2023 - ?

PURCHASING LIMITS:
We ask our members/subscribers to purchase only ONE BOX. Any abuse of this will result in a cancellation of any excess or potentially, ALL of your orders. 
BILLING/CANCELLING:
You will be billed ASAP after subscribing to your box; then you will get billed the 1st of every month.
You can cancel your subsciption box any time logging into your funky bop account and canceling from your dashboard, filling out the contact form, emailing us at support@funkybop.com OR selecting the chat button at the bottom of the page on the website.

This is a limited quantity subscription, so that means if you decide to cancel... you must wait for a spot to open up before signing up again (availabe spots will be announced on the 31st of every month.)

This is a new service so we do apologize in advanced for any issues. If any boxes oversell for any reason, we will have to cancel any residual amount. 
CONDITION OF BOXES:
We would love to have minty fresh boxes, however sometimes we cannot deliver every time due to transits. We purchase most of our boxes mint but more vaulted/grail pops may be a condition grade of 7.5 through mint.
POSSIBILITY OF DUPLICATES:
Each subscription box can be different but some may be the same. We are developing an in house algorithm to prevent duplicates from occuring. 
SHIPPING INFORMATION:
All Indy's Box of Radness Mystery Boxes will ship on the 15th of every month. Package insurance is included for free with every box via UPS or USPS. 
RETURN/EXCHANGE POLICY:
No returns or exchanges.
---